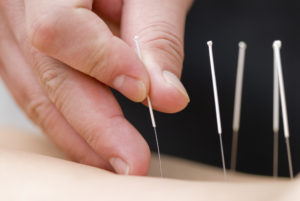 Stress is part of our culture these days. But when stress turns into anxiety, it can have a significant negative impact on your quality of life. Over 40 millions Americans suffer from this condition. It can be characterized by a number of symptoms including excessive worrying, hyperventilation, elevated heart rate, insomnia, and even digestive issues. In the Western world, anxiety is routinely treated with medications or psychotherapy. However, acupuncture – an ancient Chinese practice – can also be helpful in addressing these symptoms. Dr. Cody Doyle offers acupuncture at our chiropractic office, serving Roanoke and Argyle, TX.
Do you suffer from anxiety? Learn how acupuncture can help. Schedule an appointment at Doyle Chiropractic and Acupuncture by calling 817-767-5430.
Benefits of Acupuncture at Our Argyle, TX Practice
Acupuncture can be used as a standalone procedure or in conjunction with other anxiety treatments, such as therapy or medication. Recent research has indicated that acupuncture is effective for alleviating symptoms of generalized anxiety disorder. In fact, one 2015 study reported that in some cases, acupuncture was successful even when therapy and medication was not.[1]
This means that some patients are able to alleviate anxiety without the use of drugs. Furthermore, acupuncture is minimally invasive, and most individuals report only mild soreness the day after treatment.
There are also a few minor risks associated with acupuncture. They can include bruising of the skin or dizziness. However, these side effects are rare – and if they do occur, they diminish within a few hours.
How Ancient Medicine Defines Acupuncture's Effect on Health
Qi is an energy force that regulates the body's health and wellbeing, according to ancient Chinese medicine. Just as the blood moves through the veins, Qi moves through the body via meridians. When Qi is disrupted my illness, injury, or stress, health problems can develop. By inserting tiny needles at specific points of the body, the balance of Qi is restored and health is improved.
Why it Works
Though the concept outlined in the section above may sound outdated, many experts believe that Qi is simply a metaphor for metabolic function. In other words, acupuncture can trigger the release of certain chemicals to promote healing.
When used to treat anxiety, acupuncture can stimulate the parts of the brain that control emotions. Furthermore, it can support the nervous system and help the body produce its own painkilling chemicals. All of this can help patients feel more in tune with themselves and their environment. In simple terms, anxiety is triggered by external circumstances, but acupuncture helps your body take back control.
What is Treatment Like?
To perform acupuncture at our Argyle, TX practice, Dr. Doyle will ask you to lie down on a comfortable table. Next, he'll insert tiny sterilized needles into specific locations at varying depths. While you may feel slight stinging, you shouldn't feel pain or discomfort. Depending on your unique case, he may stimulate the needles, then remove them after 10 to 20 minutes.
The results will vary depending on the patient. However, many individuals notice relief from their symptoms immediately. Some may require additional sessions to reap the full benefit.
Call Our Argyle, TX Practice Today
If anxiety is affecting your quality of life, find out how acupuncture at our Argyle, TX practice can help. Schedule a consultation with Dr. Doyle by calling 817-767-5430. You can also contact us online anytime.
[1] https://journals.sagepub.com/doi/abs/10.1136/acupmed-2014-010524