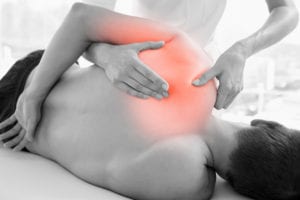 Many of our patients come to our Roanoke, TX clinic seeking relief from muscle pain. During your visit to Doyle Chiropractic & Acupuncture, Dr. Cody Doyle, who has over 21 years of experience, will inquire into your symptoms and examine your areas of pain before recommending a customized course of treatment.
Common Causes of Muscle Pain
Muscle pain is commonly caused by stress-induced tension, overuse of a muscle, or injury. Localized pain affects one muscle or a group of related muscles while systemic muscle pain is felt throughout the entire body. Systemic muscle pain may be caused by illness, an infection, medication side effects, or another cause. During your consultation and examination, Dr. Doyle will determine if any of the following are causing your arm pain.
Misaligned vertebrae

: Misaligned vertebrae and bulging disks can cause pain that radiates outward toward muscle groups. Dr. Doyle offers several effective treatments for misaligned vertebrae, including spinal manipulation.

Tendinitis

: Inflammation of a tendon can cause muscle pain and reduced mobility. There are many effective treatments for tendinitis that do not require surgery.

Peripheral Neuropathy

: This nervous system condition affects more than 20 million people in the United States. Peripheral neuropathy disrupts communication between the peripheral nerves and the central nervous system, resulting in muscle pain, tingling sensations, and skin sensitivity.

Arthritis

: This autoimmune disease can be degenerative or inflammatory. Arthritis is characterized by inflammation of the joints.

Muscle cramps

: A muscle cramp is a sudden and involuntary contraction of a muscle. Overuse, strain, and dehydration are common causes of muscle cramps.
Possible Treatments of Muscle Pain
Your customized treatment will be based on the causes of your muscle pain and other factors, including your medical history. Dr. Doyle may recommend one or more of the following treatments to address your muscle pain.
Spinal manipulation

: Doyle Chiropractic & Acupuncture offers multiple spinal manipulation methods, including diversified method (hand-applied pressure), activator method (mechanical manipulation using handheld device), Thompson method (manual thrusts with drop table technique), and Gonstead Method (similar to diversified but using a variety of tables, positions, and manual thrusts).

Acupuncture

:  Dr. Doyle administers this minimally-invasive treatment by inserting a number of very small needles in varying depths into your skin. You may feel a mild stinging sensation, but most patients experience minimal discomfort. Once inserted, Dr. Doyle may move the needle up or down or in a circular motion. Some treatments involve heat and mild electrical pulses. The typical length of treatment is about 10 to 20 minutes.

Myofascial Release Therapy

: Myofascial release is a hands-on treatment that is conducted under the skilled hands of Dr. Doyle. The treatment involves the use of massages of the myofascial connective tissue to provide relief from chronic pain or other symptoms.

Complementary therapy

: Dr. Doyle may recommend one of several complementary therapies in addition to spinal manipulation and acupuncture. These may include nutritional, herbal, ultrasound, detoxification, and home exercise programs.
Contact a Local Chiropractor in Roanoke, TX
Dr. Doyle has more than 20 years of experience diagnosing and treating muscle pain. To schedule an exploratory exam, contact Dr. Doyle at (817) 767-5430 or visit our website to set up an initial appointment.