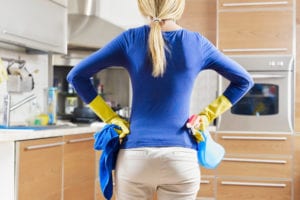 Did you know the spring season will officially begin on March 20th? After the cold winter months, warmer temperatures and a little sunshine can leave us itching to clean out dusty garages or organize an overcrowded coat closet. However, if you suffer from chronic lower back pain, or have injured your back recently, protecting your spine while spring cleaning could prevent muscle pain, stiffness, and fatigue. A visit to Roanoke, TX local chiro, Dr. Cody Doyle, can help you experience improved alignment and better circulation to reduce painful or debilitating symptoms. This spring, take care of yourself — and your spine —by keeping in mind these tips as you prepare your home for warmer months.
Does your back feel stiff, sore, or painful? Do you regularly apply heating pads and muscle ointment to help find relief? If you are experiencing uncomfortable symptoms in the back or shoulders, visit Dr. Cody Doyle. As a Roanoke, TX, local chiro, Dr. Doyle can help promote healing through alternative therapies such as chiropractic adjustments or myofascial release therapy. Don't let back problems keep you immobile this spring. Contact our office now to schedule your appointment with Dr. Doyle.
Prepare with a quick warm-up.
It may seem silly to "warm-up" for household chores, but some cleaning and organizing tasks end up being rather strenuous. It's always a good idea to prepare your muscles for activity by gently warming them up and opening up their range of motion. A few quick dynamic stretches can get your blood flowing and help prevent sore muscles the next day. Here are a few examples to get you started.
Always lift with the legs.
If you are carrying heavy boxes or loads of laundry, don't bend at the waist to lift them off the ground. Always bend down at the knees into a squatting position when lifting. If it's too heavy to comfortably carry, have your spouse or neighbor help out; carrying more than you can handle elevates your risk of injuring your back.
Don't twist and turn.
For some home projects, such as replacing a hard-to-reach lightbulb, you may find yourself twisting or contorting to try and complete the task. However, whenever possible, avoid over-twisting or turning to the point that your spine is out of natural alignment. Overstretching the spine could result in a slipped disc which can lead to painful pinched nerves. Also, when your body isn't able to balance, the chance for a fall or other injury increases. And home injuries are no joke; about 21 million Americans last year ended up at the hospital due to at-home injuries.
Consider a back brace.
At your next appointment with Dr. Doyle, ask about whether a supportive back brace is right for you. Different types of braces can help support different areas of the back, or help patients with certain chronic pain issues. Wearing a back brace while working around the home may offer the extra support you need to prevent spinal misalignment or inflammation.
See your Roanoke, TX local chiro.
If you have chronic or new back pain, it's important to treat the underlying complications which could be contributing to your symptoms. Dr. Doyle offers a range of holistic treatments that work with your body's natural ability to heal. He can help increase circulation and reduce areas of tension or inflammation. Regular appointments with Dr. Doyle can proactively help reduce back pain.
If you are interested in chiropractic therapy, or any of our other holistic treatments, please contact our Roanoke, TX practice today. We look forward to meeting with you soon!