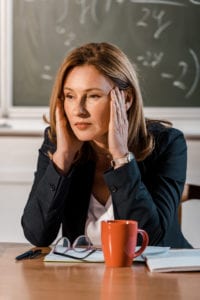 Learning to better manage your stress is one of the most critical new year's resolutions you can make as we turn the calendar to another year. Although society sometimes makes stress seem like a normal experience that should just be expected, consistent levels of stress can take a significant emotional and physical toll. Dr Cody Doyle helps patients cope with stress through local chiro and acupuncture treatments in Roanoke, TX.
Want to know more about this holistic answer to taking the edge off constant anxiety? Contact us at (817) 767-5430 to meet with Dr. Doyle.
How Stress Manifests Itself
Every person deals with stress differently. However, most individuals report one or more of the following common stress symptoms:
Depression.

Moodiness.

Withdrawal from social experiences.

Memory issues.

Irritability.

Sleeping too much or too little.

Poor decision-making.

Lack of interest in things the person once loved.

Muscle spasms.

Lack of interest in sexual activity.

Pain in the head, body, joints, etc.

Digestive disorders.

Stomach and mouth ulcers.

Eating too much or too little.

Drinking too much alcohol.

Elevated blood pressure.
The next time you experience high levels of stress, write down your physical and emotional responses. These are valuable insights into how stress impacts you, and why you need to control your stress responses.
The Stress-Body Connection
As you may have noticed, many of the stress symptoms listed above have a physical connection. The reason for this lies in our ancestry.
Thousands of years ago, our bodies learned to adapt to stress with a "fight or flight" boost of cortisol. This release of cortisol was invaluable when fleeing from an enemy or predator. However, we no longer need to run quickly away from most people, creatures, or situations. Our brains and bodies do not realize this. Thus, the adrenaline rush sticks around, straining our organs, muscles, and brain.
The more stress you encounter, the more strain you experience. Eventually, the strain can begin to affect all areas of your life.
Local Chiro and Acupuncture in Roanoke, TX, Can Help
You will never be able to remove all the stress from your life, but you can take steps to reduce its impact. One method is by working with a local chiro in Roanoke, TX. Dr. Doyle offers both chiropractic and acupuncture treatment options for patients in need of more adequate stress relief and improved comfort.
After leveraging your medical information and considering your personal input, Dr. Doyle will map out a customized stress management plan. As you follow this non-invasive, holistic chiro and acupuncture treatment plan, you should begin to better cope with stressful occurrences.
Other Methods to Manage Stress
Working with a local chiropractor can be a solid first step to managing overly high stress levels. Other ways you can minimize the short-term and long-term impact of stress include:
Losing weight.

Eating a varied, nutritious diet.

Getting seven to nine hours of sleep each night.

Taking yoga or meditation classes.

Stopping use of tobacco products.

Drinking alcohol in moderation, or quitting alcohol use entirely.

Adding more exercise to your daily schedule.

Spending time engaged in fun, stress-free individual or social activities.
Visit a Local Chiro in Roanoke, TX
Sick and tired of stress? Talk to Dr. Doyle about chiropractic and acupuncture treatment options to ease the way you respond to stressful situations. Call (817) 767-5430 or fill out an online contact form today.