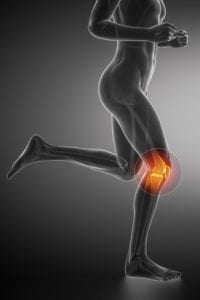 If you have pain above your knee that may be related to your workouts or other intense repetitive use of the lower body, you may suffer from quadriceps tendonitis. This pain may be accompanied by swelling, and the area above your knee may feel warm to the touch. You may even notice a ridge or lump above the knee if there has been a tear to the tendon where the muscle connects to the kneecap. This type of injury tends to develop slowly over time, and with continued intense use of the lower body.
Do you have pain above the knee during and after your workouts? Roanoke and Trophy Club chiropractic care with Dr. Cody Doyle may help you end your pain and heal your condition. Contact our office at 817-767-5430 for an appointment.
What Causes Quadriceps Tendonitis?
You are probably familiar with the quadriceps as being the large muscle group on the front of the thigh area. It is engaged any time you walk, run, or use your leg at all. This muscle is connected to the kneecap by the quadriceps tendon, which stretches and connects to the patellar tendon. Damage to the quadriceps tendon tends to be  the result of overuse of the quadriceps mechanism and can occur due to intrinsic or extrinsic factors.
Extrinsic factors may include working out too hard or too long, improper workout settings, or improper footwear. Intrinsic factors may include alignment issues in the lower body or factors relating to your age, weight, or flexibility. Quadriceps tendonitis is commonly seen in athletes who cycle, run, kick, or do squats on a regular or repetitive basis. Your tendency to develop tendonitis may increase as you get older, and it can be an extremely frustrating injury for those of us who value our workouts and wish to exercise and stay in good health.
With any forms of tendonitis, it's important to seek help from a professional because rehabilitation and proper healing can take weeks or even months. If you continue to use the muscle the same way and "push through the pain," you may exacerbate or worsen the condition. Getting a proper diagnosis and understanding of your condition can help you understand the best way to treat it and make use of home-based therapy, such as icing, taping, and the proper use of braces.
How Dr. Doyle Can Help
Do you have pain in your lower extremities? Roanoke and Trophy Club chiropractic care with Doyle Chiropractic and Acupuncture may help you recover the full use of your leg(s). Dr. Cody Doyle will help you understand the causes of your dysfunction or injury and learn the best ways to counteract the problem, so you can heal properly.
Dr. Doyle has successfully treated many patients with lower body injuries and painful conditions of the knee, hip, ankle, and leg. Using combined integrative therapies, Dr. Doyle can help you heal and recover. Suggested therapies may include chiropractic, myofascial release, physical therapy, and lifestyle changes. We do not have a one-size-fits-all to treatment because each case may be different in its causes and recommended treatment. Dr. Doyle will assess your pain and use problems, conduct a thorough physical exam, and recommend a combined approach to treatment.
Problems with tendonitis? Contact Doyle Chiropractic and Acupuncture for Roanoke and Trophy Club chiropractic and integrated therapies. Contact our office at 817-767-5430 for an appointment.