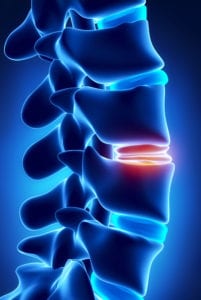 The term degenerative disc disease is a little misleading, in that it's not strictly degenerative or technically a disease, but can be corrected with holistic treatment and lifestyle changes. Although the discs located in between each vertebra do begin to lose fluid as you age, this can also be the result of injury, lack of exercise, smoking, hormone imbalance, and high impact physical activity. As the fluid decreases within the disc, the outer shell will begin to deteriorate, preventing it from absorbing shock and pressure placed on the spine from daily activity. When this occurs, it can lead to chronic neck and back pain, limited mobility, and tingling in the extremities. Pain may worsen during certain activities, making sitting, bending, or twisting difficult.
As one of the more common causes of back pain, degenerative disc disease affects nearly 30 million people each year in the United States. Below are four ways that Dr. Doyle can reduce your pain and improve your quality of life.
Roanoke degenerative disc disease chiropractor, Dr. Doyle can provide the treatment you need to help you avoid back surgery. To schedule your consultation, call 817-767-5430.
Chiropractic Care
The spine hosts and protects your entire central nervous system, which is responsible for complete muscle and organ function within your body. As the discs shrink, it can cause the vertebrae within your spine to misalign, also known as vertebral subluxations. This will trigger the nerves within your spine to misfire, resulting in pain, fatigue, and a host of other symptoms. Through chiropractic care, Dr. Doyle can use spinal manipulation (spinal adjustments) to promote healing. During your spinal adjustment, he may use a variety of manual and mechanical techniques to gently correct misalignment.
Acupuncture
When energy flow within the body is disrupted, it can lead to increased pain and inflammation. Acupuncture is a holistic treatment that involves inserting thin, sterilized needles into certain musculoskeletal acu-points on the skin to stimulate proper energy flow. This technique is based on traditional Chinese medicine and has proven to be an effective tool in reducing neck and back pain.
Physical Therapy
Building up the muscles in your back can help your spine stay properly aligned, as well as increase your mobility and flexibility. Although you may be encouraged to avoid strenuous exercise for a period of time, Dr. Doyle will prescribe physical therapy exercises you can perform at home or at the gym to strengthen your muscles. We also provide myfascial release therapy, a muscle massage technique to release tension and improve your flexibility and function.
Lifestyle Modifications
Smoking and obesity can exacerbate degenerative disc disease. You will be encouraged to stop smoking and to avoid tobacco products. To alleviate the pressure on your spine, Dr. Doyle can prescribe a weight loss treatment plan designed specifically for your body. We offer auriculotherapy (ear acupuncture) to speed up your metabolism and promote effective weight loss. Your treatment plan will also include herbal supplements and certain foods to incorporate or avoid.
Contact Our Office
If you are interested in learning more about degenerative disc disease and which treatment is best suited for your needs, we invite you to schedule a consultation today with Roanoke degenerative disc disease chiropractor Dr. Doyle. You can reach us online or give us a call at (817) 767-5430