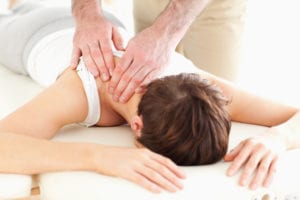 Argyle chiropractor Dr. Cody Doyle has a unique approach to treating patients. He has spent the last 20 years exploring alternative treatments for his patients in order to provide a wide range of options. With an interest in identifying successful treatment protocols, he combines these with the most effective elements to provide maximum results. When visiting his practice, it is highly possible that he will use more than one treatment method to accomplish your health goals.
Although we use traditional chiropractic care and acupuncture in-office, Dr. Doyle's research has allowed him to develop his own unique treatment brand, using the latest techniques in alternative medicine. Please continue reading to learn more, or contact your Argyle chiropractor online or at (817) 767-5430 to book your appointment.
Common Treatment Combinations
Each patient is treated individually, so treatment plans will vary. While one patient may respond to a combination of chiropractic care and acupuncture, someone else may respond with massage therapy and herbal remedies. Argyle chiropractor Dr. Doyle takes a comprehensive approach to planning patient care. Some of the more common treatment combinations include:
Chiropractic: We use a combination of manual and mechanical techniques, including the Diversified, Activator, Thompson, or Gonstead methods to realign the spine. Your spine protects your central nervous system, which is responsible for sending messages from your brain to other organs in your body. When lines of communication are disrupted, it can lead to pain, inflammation, and disease. By keeping your spine straight and healthy, communication can remain fluid for proper function.
Acupuncture: Based on ancient Chinese medicine, this alternative method can address a variety of musculoskeletal conditions. Your body is intended to have a natural energy flow for proper function. When this flow is disrupted, it can cause pain and systemic issues. By inserting tiny needles into the acu-points on the surface of the skin, Dr. Doyle can stimulate underlying tissues and ignite healthy energy flow.
Herbal Remedies: In addition to other forms of treatment, Dr. Doyle may recommend vitamins and natural supplements to help reach your goals.
Auriculotherapy (Ear Acupuncture): By inserting small, sterile stainless steel needles into certain musculoskeletal points around your ear, it can curb cravings and promote healthy weight loss.
Myofascial Release Therapy:This treatment improves flexibility and function to your muscles that have experienced trauma or injury. This hands-on technique uses mild to moderate pressure to the myofascial tissues to improve flexibility and function to your injured muscles to reduce chronic pain. It is frequently combined with chiropractic care.
Why Choose Dr. Doyle?
Argyle chiropractor Dr. Doyle is passionate about helping patients achieve a healthy lifestyle using alternative methods. He will work diligently to locate the right treatment method so you can get back to enjoying a fulfilling, pain-free life!
Let Dr. Doyle help you and your family. To learn more about Doyle Chiropractic & Acupuncture and the treatments we offer, contact our office today to schedule your consultation. We care for patients in North Fort Worth, Trophy Club, Grapevine, Southlake, Keller, Roanoke, and Justin.