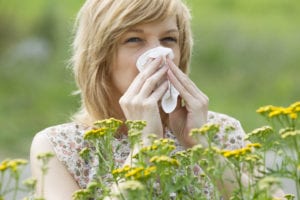 Fall is a wonderful time of year. The weather cools, leaves start to change, and Starbucks releases their famous pumpkin spice latte. However, with the shift in weather come itchy eyes and runny noses. If you find yourself reaching for Zyrtec or Claritin just to try and make it through the day, it's highly possible you have seasonal allergies. This condition is a common occurrence around this time of year and affects over 30 million people. To make matters worse, Texas actually ranks as one of the worst states for seasonal allergy sufferers.
Because the symptoms of seasonal allergies are often confused with the common cold, it's hard to know which one you are being affected by. If you notice frequent headaches, fatigue, excess mucus, congestion, and asthmatic attacks around certain times of the year, it's highly possible you have seasonal allergies.
Roanoke allergies chiropractor Dr. Doyle offers holistic treatments to help your symptoms so you can enjoy a healthy lifestyle. To learn more, contact our office today by calling 817-767-5430 and schedule your consultation.
What Are Allergies?
Although changes in weather are a big factor for many allergy sufferers, allergies can also be trigged by pet dander, dust, mold, and other environmental factors at any time of the year. If you notice a flare up in your sinuses after being outside, in dusty areas, or around dogs, you could be allergic to any number of things. Allergies are an immune system disorder. When your sinuses flare up, it's your body's way of telling you something harmful has been consumed and it's trying to flush it out as quickly as possible. Common reactions can include:
Sneezing
Itchy or watery eyes
Runny nose
Congestion
Headaches or migraines
Treating Your Allergies
Dr. Doyle believes in treating the root of the issue, not just the symptoms. During your initial consultation, he will evaluate your symptoms, environment, and lifestyle. In order to receive the most effective treatment, it's important to be give a full history of your condition so he can make the best recommendations possible.
Chiropractic Care
Chiropractic care is a treatment used to correct vertebral subluxations in your spine. Your spine is responsible for controlling your central nervous system, which is responsible for sending messages to your brain and to other organs in your body, including your immune system. If your spine is misaligned, it is possible for interference to occur, resulting in a malfunctioning immune system.
With routine chiropractic care, Dr. Doyle can keep your spine properly aligned so that your nervous system functions at full capacity. A properly aligned spine not only reduces neck and back pain, but can reduce your risk for sickness and allergy symptoms. At Doyle Chiropractic, we use a variety of techniques, including the Diversified method, Activator method, and Gonstead method to manually and mechanically adjust the neck and back.
Acupuncture
Combining chiropractic care with acupuncture has proven to be a successful treatment method for allergies. Throughout the body are multiple acupuncture points that can be stimulated in order to improve energy flow in the musculoskeletal system. To do this, small, steril needles will be inserted into a specific acupuncture point on the in your musculoskeletal system. The number and location of needles will depend on the severity of your symptoms. Multiple treatments are often necessary to produce the most effective results.
Call Today
If you are suffering from ongoing allergies, Roanoke allergies chiropractic Dr. Doyle can help. Please contact our Roanoke, TX practice today by calling 817-767-5430 to schedule your consultation.