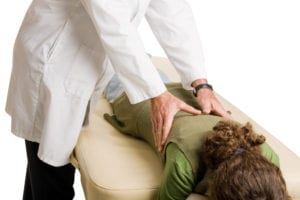 Is someone else's negative view of chiropractic care keeping you from learning more about it? While chiropractic care has been around for decades and is a proven systemic method for improving health, it is not always viewed with an open mind as a viable treatment solution.
Your spine houses your central nervous system and is responsible for sending messages back and forth from your brain to other organs in your body to instruct how to function. If signals are interrupted, it could lead to pain, dysfunctional organs, and the development of certain medical conditions. With chiropractic care, a licensed chiropractor can adjust the vertebrae in your spine to help keep it properly aligned. Although chiropractic care is not considered a cure for a specific malady or disease, scientific and medical evidence have indicated that spinal adjustments can reduce pain and improve quality of life.
To learn more about Justin chiropractic care, please schedule a consultation with Dr. Cody Doyle. You can reach us by filling out our online form or calling 817-767-5430. We proudly serve clients living in the Roanoke, Keller, Argyle, and Southlake area. In this blog, we will discuss the common myths and realities about what chiropractic care is and isn't.
Myth: Chiropractic must be harmful since popping your joints is bad for you.
Although it's true that popping your knuckles is bad for you, when joints are correctly adjusted, it can increase range of motion and relieve pain and stiffness. Chiropractic adjustments are only performed on joints that are functioning improperly. You should never attempt to pop your back or neck on your own, this can lead to serious complications, such as hypermobility or looseness in the spine. If you have an urge to crack your knuckles or pop your neck, this is usually a sign that the spine is misaligned.
Myth: Chiropractic is unsafe.
Whether taking medication, undergoing surgery, or seeking chiropractic care, there is always the risk for adverse side effects or complications. However, the malpractice rates associated with chiropractic are low, which indicate it is a remarkably safe treatment. Before undergoing treatment, it is important that you seek treatment from a licensed and qualified chiropractor with a high level of experience.
Myth: Chiropractic care is only for those with back pain.
The benefits of Justin chiropractic go beyond relief of back pain. In fact, not everyone who sees a chiropractor has back pain. You can read more about that in the next section. Chiropractic care can improve overall body function. Patients who suffer from allergies, arthritis, migraines, and obesity have seen improvements by correcting back and neck misalignment.
Myth: I'd have to get my back cracked if I went to the chiropractor.
When meeting with the chiropractor for the first time, discuss your fears and concerns. Many who have a fear of their neck or back being manually adjusted can undergo alternative treatments in-office that will have the same effect. Chiropractors can use a wide variety of techniques, including light force and soft tissue manipulation that produce effective results with no popping sounds. Techniques are intended to meet the patient's age, comfort level, and unique condition.
Learn More About Chiropractic Care
We encourage anyone interested in learning more about Justin chiropractic care to schedule a private consultation with Dr. Doyle. He will sit down and discuss the treatment in detail and answer any questions you may have to ensure you are comfortable. Please contact our office today online or call 817-767-5430.