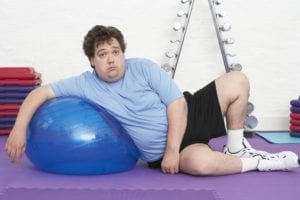 There are so many weight loss programs and diets to try during your weight loss journey. Some patients try all of them and still don't reach their anticipated weight. Roanoke, TX chiropractor Dr. Cody Doyle uses a non-invasive, holistic approach to help patients notice results during their weight loss journey.
In addition to diet and exercise, Dr. Doyle recommends regular chiropractic visits, nutritional therapy, and auriculotherapy. These weight loss treatments are completed in our Roanoke, TX office and have significantly helped patients decrease pain and meet their weight loss goals.
During your weight loss consultation, Dr. Doyle stresses the importance of routine exercise and healthy eating as the main features in successful weight loss. However, he understands that chronic pain can make exercising painful and uncomfortable. Overweight patients often experience back pain, which limits their ability to workout.
Dr. Doyle conducts a physical assessment and asks questions about your medical history and lifestyle to identify the root issue that's limiting your weight loss ability.
To learn more about the effect of chiropractic care and acupuncture on weight loss, call 817-767-5430 to schedule your appointment today with Roanoke, TX Dr. Doyle. Our office welcomes patients from Justin and Argyle, as well.
Being Overweight Affects More Than Appearance 
Many patients want to lose weight to improve their physical appearance. For some patients, their primary care physician recommends weight loss to better overall health.
Medical conditions associated with being over weight include:
High blood pressure
Diabetes
Osteoarthritis
Kidney disease
Cardiovascular disease
Higher risk of stroke
Additionally, unsuccessful weight loss can negatively affect your self-esteem and relationships. You may feel less inclined to excel at work or meet new people.
Dr. Doyle's non-invasive weight loss treatment has been successful for 80 percent of patients and has many benefits in addition to weight loss.
Benefits of chiropractic treatment for weight loss:
Improve nervous system function
Increase confidence levels
Holistic Weight Loss Treatment
Dr. Doyle recommends that overweight patients attend regular chiropractic appointments to correct misaligned spines through musculoskeletal manipulation. When there's misalignment in your spine, your nervous system and spine can't communicate properly. This causes aches, pains, and improper function. It also places unnecessary pressure on the spine, which results in undesirable back pain.
Chiropractic care gently aligns vertebrae to ease discomfort and allow open communication between the spine and nervous system. Chiropractic care reduces stress and helps manage arthritic pain, as well.
Along with regular chiropractic visits, Dr. Doyle recommends nutritional changes to help with weight loss. He may ask you to stop eating certain foods or to add specific foods into your diet to better your weight loss chances. Regular exercise and a healthy diet are the best ways to lose weight.
Auriculotherapy derives from the Chinese and was introduced into Western Culture approximately 60 years ago. This traditional Chinese method uses two needles, which are strategically placed into the ear to suppress the appetite. Auriculotherapy stimulates the Helicis Minor muscle to help patients feel fuller after consuming a smaller portion of food.
The acupuncture needles remain in the musculoskeletal points in the ear for two to three weeks. After they're removed, patients experience a suppressed appetite for two to three months. Auriculotherapy may cause dry mouth for a day or two. However, this side effect will go away after a few days. Dr. Doyle recommends drinking plenty of water to help ease the dry mouth.
Call 817-767-5430 today to schedule your weight loss appointment in Roanoke, TX with Dr. Doyle. We look forward to helping Justin, Argyle, and Roanoke patients improve their confidence and health with routine chiropractic care and acupuncture.