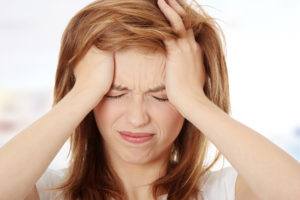 Are headaches causing you to miss important moments in life? Are you tired of the short-term relief that NSAIDs can provide? Worried about their long-term effect on your health? Homeopathic herbal treatments may have proven ineffective, but chiropractic and acupuncture can often help. At Doyle Chiropractic and Acupuncture in Roanoke, near Justin, TX, Dr. Doyle will schedule an hour or more to meet with you, discuss your concerns, and provide a comprehensive examination. From there, he'll create a personalized treatment plan to address the underlying source of your pain.
According to the American Chiropractic Association, nine out of ten Americans suffer from headaches. They range from occasional to frequent and mild to severe. Five percent of headaches and migraines are caused by triggers, such as:
Certain foods
Smells
Noises
Light
Stress
Excessive exercise
Blood sugar changes
Weather changes
Dehydration
TMJ disorder
However, more often, the root cause of a headache or migraine is muscle tension or spinal misalignment. Because many people spend so much time in one position, like sitting in front of a computer, the muscles in the neck become irritated and tense. Spinal misalignment contributes to tightened muscles which affect the blood flow to the neck. Dr. Cody Doyle will use effective, hands-on treatments to find the root cause of your symptoms.
Learn more about chiropractic and acupuncture online or call (871) 767-5430 to set up an appointment with Dr. Doyle.
Dr. Doyle's Method
Throughout his career, Dr. Doyle has been devoted to extensive research, which has led him to develop unique, effective treatment methods. He knows which types of headaches respond best to acupuncture and which respond well to spinal manipulation.  Through careful observation and consideration, Dr. Doyle will choose the treatment that has most often provided relief to patients with similar issues.
Dr. Doyle believes that drug-free pain management is the healthiest option, and certainly worth trying. He will search for the root cause of your discomfort so that he can treat the problem, not just the pain. His personalized treatments will help you avoid the side effects that come with the long-term use of pain medications, steroidal and non-steroidal anti-inflammatory medications, and surgeries.
At-Home Care for Headaches and Migraines
If you suffer from frequent headaches, the American Chiropractic Association offers some suggestions to help prevent them:
For people who spend a lot of time in one position, like in front of a computer or standing at a cash register, take a break to walk around and stretch every 30 minutes to an hour. Perform stretches that take your head and neck through a comfortable range of motion.
Walking, cycling, yoga, and other low-impact exercises can help relieve pain. However, if you have dull, throbbing headaches, avoid strenuous exercises.
Avoid teeth clenching and grinding. When your upper and lower teeth touch, the temporomandibular joints (TMJs) can become irritated and lead to tension headaches. You may notice that you clench your jaw during the day, but this habit often occurs while a person sleeps. Therefore, you may only realize the symptoms of clenching and grinding, not the act itself. Pain in the jaw, head, neck, and worn down or sensitive teeth are common signs of TMJ disorders.
Avoid dehydration by drinking at least 64-ounces of water a day—and more when you sweat or travel to high altitudes.
Although these things help prevent some headaches, spinal misalignments in the neck and back need to be treated by a chiropractor.
Visit Your Roanoke and Justin Chiro Today
Understanding what triggers your headaches is the first step in finding relief and preventing them in the future. At Doyle Chiropractic and Acupuncture, we love helping patients achieve total wellness with drug-free, nonsurgical treatments. After your comprehensive assessment, Dr. Doyle will choose the appropriate treatments to treat your migraine and headache pain. To get the help you need today, contact our Justin, TX office at (871)-767-5430 to make an appointment.