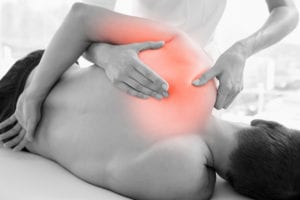 So you want to go to the Chiropractor to find relief from your back pain, but you're a little nervous about what it may feel like to have your back adjusted. The team at Doyle Chiropractic and Acupuncture feels your pain…literally. We want you to know that we work in the Chiropractic field out of passion — not necessity. Many of us have experienced body pain as well, and we want everyone to feel the same relief we experienced from our first adjustment.  
How Does the Doctor know it won't hurt?
Chiropractic care does not involve guesswork. Dr. Doyle spent many years in Chiropractic college to learn how to assess a patients' symptoms to alleviate their pain. When Dr. Doyle begins to adjust your back, he will be working on very specific parts of your body that need realigning. The doctor also knows that back injuries hurt, and he is able to adjust pressure to make sure the correction is comfortable for you. Chiropractic alignments are performed regularly to keep you free of pain, so there's no need for the doctor to over adjust on any particular visit.
Adjustments Feel Good
Patients who come for chiropractic adjustments often report a feeling of instant relief. When your spine, or any other part of your body, is out of alignment it causes nerve pressure. It doesn't take very much pressure at all to create unbearable pain. The good news, though, is that it doesn't take a lot of force to correct a pinched nerve.  It only takes a professional who knows where to apply pressure and how much force to use.  
Do Other Treatment Options Hurt?
Here at Doyle Chiropractic and Acupuncture, we care about relieving pain, not causing it.  Chiropractic care is a growing industry due to the immediate relief the treatments bring to patients. People love the idea of enjoying relief without invasive surgeries. While chiropractic treatments are fine on their own, we have found that many of our patients enjoy the added benefits of our other treatment options as well. We have many avenues to help reduce pain, including:
Nutritional Therapy

Herbal Therapy

Premodulated muscle stimulation

Propriceptive Neuromuscular Facilitation (PNF)

Ultrasound Therapy

Detoxification Programs

Home Exercise Programs

Complimentary Therapy

Acupuncture

Myofascial Release Therapy

Chiropractic Care
All of these treatments are designed to bring relief to our patients. You don't have to take our word for it either.  Click here to see what our patients think about the care they have received.  As you can see from our testimonials, our customers have fallen in love with Doyle Chiropractic and acupuncture, and we think you will too.
Ready to Enjoy Relief from Pain?
If you're ready to stop going in circles with the other treatment options you've been trying come see us at Doyle Chiropractic and Acupuncture. Our state-of-the-art facility is ready to set you on the road to a pain-free life.  Click here to leave a message, and one of our friendly team members will reach out to you. Or you can just call 817-767-5430 to set an appointment today.