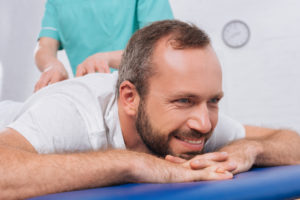 Have you been putting off seeing a chiropractor? "Maybe that back pain will go away on its own," you're probably thinking. We understand that life gets busy, and sometimes putting the needs of your family and other priorities seem like it leaves no time for preventative care or medical treatments. Seeing a chiropractor has many benefits beyond alleviating back pain. It's easy to forget all the many benefits of seeing a chiropractor, so put together this friendly reminder. 
Benefits of Going to a Chiropractor
The spine provides many important functions. The column of bone, muscles, and nerves protects the spinal cord and allows for communication between the brain and nearly every part of the human body. The spine provides important structural support that allows us to sit and walk upright. A healthy back also allows for bending and other ranges of motion. Maintaining a healthy spine sometimes requires working with a chiropractor who can heal injuries while providing advice on how to maintain a healthy spine. 
Benefits of going to a chiropractor include:
Improved mobility
Have you given up on long days at the golf course or rounds at the tennis court because your back simply hurts too much? Back health and mobility is more than a health issue. It's a quality of life issue. No matter how stiff or achy your back feels, your chiropractor can develop a treatment plan that can offer immediate and long-term relief. Once your treatment has begun, you'll enjoy an extra "spring in your step" that can lead to a fuller and more fulfilling life.
Improved strength
Chiropractors do more than address bone-related issues. The muscles that interconnect with the spinal discs play an important role in back health. Your chiropractor will examine ways of healing your back muscles as well as your bones and the cartilage that support each vertebra. Your chiropractor will look at your back and body holistically, and every effort will be made to improve strength as well as mobility. 
Are you hesitant to lift your child or grandchild? Does the idea of carrying a moderately heavy object for minutes at a time give you pause? A simple visit to the chiropractor can alleviate back pain while restoring strength. 
Improved healing
If you are taking a wait-and-see approach to heal your back, you may be gambling with your health. Unlike other areas of your body, the back and supportive structures of the spine are prone to slower healing when blood flow is impeded. Many treatments used by your chiropractor address blood flow as a means of promoting healing. While other healthcare professionals may be quick to prescribe medications or injections, your chiropractor will use non-invasive treatments that work with the body's natural healing processes. Faster blood flow means a shorter recovery and quicker healing. 
Improved nerve health
We often focus on the health of muscles and bone when we think of chiropractic treatments. The health of nerve tissue is vitally important to maintaining overall health as well. When our spine is healthy, vital organs and other areas of our body receive clear signals from the brain. Healthy nerves are less prone to painful conditions like sciatica.
Schedule Your Visit with Your Chiropractor Today
Dr. Cody Doyle looks forward to helping you gain and maintain a fully functioning back. Call 817-767-5430.