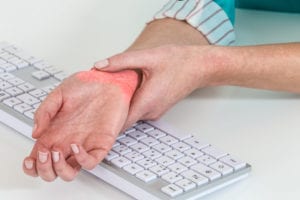 Are you searching for a holistic approach to manage your irritating wrist pain? Overuse of non-steroidal inflammatory drugs (NSAIDs) can lead to serious medical issues, like stomach bleeding and increased risk of heart and/or renal failure. These drugs, such as Motrin, Advil, and Aleve, can temporarily alleviate our wrist pain, but long-term use has been linked to causing more harm than good. Managing your pain holistically with acupuncture and chiropractic treatments is a great alternative and is better for your body in the long run.
Call Cody Doyle in Roanoke, TX at 817-767-5430 to discuss your holistic treatment options today.
What causes wrist pain?
Wrist pain can arise because of an old or a new injury—maybe it's that old baseball injury that you never really got over? We can also cause ourselves to experience pain when we overuse our wrists, such as when we spend all day at a desk job. In a technology-focused world, more of us are spending our days typing away on the computer, forgetting the effects it may have on our bodies.
Rheumatoid arthritis, or inflammatory arthritis, is another reason we might experience wrist pain. Arthritis is an autoimmune disease that affects roughly 2 million Americans, and causes inflammation of joints and tissues. It can sometimes cause the joints in your wrists to feel warm to the touch. Arthritis can also restrict your normal range of motion, limiting your wrist mobility. We can develop this disease for many reasons, including genetic and environmental factors.
Tendonitis and carpal tunnel syndrome can also cause wrist pain. Carpal tunnel syndrome results from excessive pressure being exerted on your wrist and median nerve. The median nerve runs from the shoulder all the way down to the wrist. When this nerve has too much pressure applied to it, it can be painful.
How to Manage Wrist Pain
There are ways to reduce your risk of experiencing wrist pain. You can take breaks throughout your workday, if you spend your day typing. Make an effort to relax your wrists and use a different range of motions during these breaks. You can also increase your water intake, which will keep your arm's moving parts well hydrated. Another method for reducing your risk of wrist pain is to apply ice to your wrists whenever you experience any pain. However, if these recommendations don't cut it for you and your wrist pain, maybe it's time to give acupuncture and chiropractic treatments a try. Acupuncture and chiropractic techniques are two great resources for holistically reducing your wrist pain. Rather than managing your pain with medication, these non-surgical, drug free techniques focus on fixing what's wrong in the mechanics of your body.
What is acupuncture?
Most Americans have probably never considered seeking out acupuncture care. However, this traditional Chinese practice is becoming increasingly popular to manage a wide variety of medical conditions, including wrist pain. Acupuncture is a great way to increase energy levels, while simultaneously increasing nourishing blood flow to overtaxed nerves, tissues and joints.. Dr. Doyle will strategically insert stainless-steel needles into your body, to stimulate the inflamed tissues and nerves causing your wrist pain.
 What is chiropractic?
Chiropractic care realigns the vertebrae in your spine that can lead to arthritis and other disorders like anxiety or inflammation, when they are misaligned. Dr. Doyle will create a personalized pain management plan that releases tension and will help to ease your wrist pain. Along with spinal realignment, Dr. Doyle can teach you some exercises to do at home to help manage your wrist pain, as well as recommend dietary changes that may lead to less inflammation.
Contact Dr. Doyle, in Roanoke, TX today to schedule your appointment to reduce and even eliminate your wrist pain. Call 817-767-5430 today!
We serve patients from Trophy Club, Keller, Southlake, Grapevine, Argyle, Justin, NRH, and across the North Tarrant County area. Chiropractor Acupuncture 76262