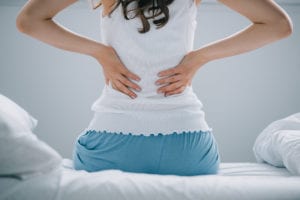 Over 80% of people have experienced low back pain in their life. If you experience frequent or chronic pain, there are options. Find out how to reduce your pain by simply improving your sleeping habits and stretching and learn the secret about a powerful all-natural painkiller.
Low Back Pain And Poor Sleeping Habits
Pain can interfere with a good night's rest, and awkward sleeping postures can exacerbate your pain. Minimize the amount of pressure and stress placed on your back through the strategic use of pillows. Alignment is key. Your ears, shoulders, and hips should be lined up to maintain the natural curve of your spine.
Side-sleepers should put a pillow between the knees to maintain spinal alignment. Another option is the fetal position—drawing your knees to your chest. This increases the spaces between the vertebrae. To continue proper alignment, your head pillow should fill the space between your ear and shoulder.
Stomach-sleepers should put a pillow under the abdomen and pelvis to relieve the pressure and stress off the back. For proper alignment of the neck, try a thin pillow under your forehead so you can sleep facedown rather than have your head twisted to the side.
Sleeping on your back is the best, as it evenly distributes the weight of your body and minimizes pressure points. To keep the natural curve of your spine, place a pillow under your knees. If you have an adjustable bed, a reclined position is best. For neck positioning, you want a flat pillow under your head.
Don't neglect the importance of your mattress. While a soft bed feels nice, it's bad for your back. You want a firm or medium-firm mattress with quality springs or foam. If you need a new one and can't afford it, try a mattress topper. If the mattress is too soft, put plywood under it.
Low Back Pain Relief Stretches
Tight muscles increase tension and worsen pain. For low back pain, the hamstrings are the most common culprit. These muscles go through the back of the thighs from hips to knees. Proper stretching lengthens the muscles, reducing tension and increasing range of motion and mobility.
Consistency is key. This isn't something you force in a few days. Perform gentle, smooth stretching. Don't bounce or go for pain, as this can tear your muscles. If it hurts, back off a bit, then hold the stretch for 30 seconds. Perform this one side at a time and repeat four times. Done twice daily, this routine will enhance coordination and reduce pain and stress.
Powerful All-Natural Pain Relief
Endorphins are amazing. They are the brain's chemicals that, when released, reduce pain and stress and improve the immune system. Endorphins are the naturally occurring "feel good" painkillers we have free access to. When released, endorphins produce euphoria. This happens naturally when we feel pain, such as with an injury, but there are other ways to activate these powerful neurotransmitters.
Studies have proven endorphin's power in the "runner's high," but the stress running puts on the back may not be best for someone already experiencing pain. The good news is, there are many other ways to get the endorphins pumping. Any type of cardiovascular exercise, such as biking or fast-walking, will do the trick. It has been shown that shared experiences are effective. Water aerobics with friends, yoga in a class, or dancing with that special someone are examples.
Other ways to boost endorphins include laughter, music, dark chocolate, and vanilla or lavender. Spicy foods also work. The burning sensation in the mouth triggers pain signals. Go ahead, add wasabi or cayenne peppers to your food for not only a burst of flavor but a boost of bliss. Volunteering and lending a helping hand produce pleasure, connection, and trust. MRI studies have shown the act of giving produces a "helper's high."
But My Back Still Hurts
If the above options don't give the relief you hoped for, additional measures may be warranted. With over 21 years' experience, Dr. Cody Doyle can help with a treatment customized for you. He provides not only chiropractic care but acupuncture, an effective way of enticing your brain to flood your body with endorphins.
To schedule an exam, contact Dr. Doyle at (817) 767-5430 or visit our website to set up an appointment.