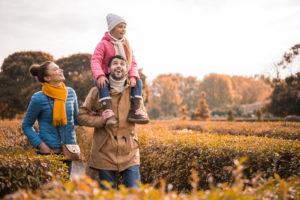 Cooler weather, warm colors, hunting season, and pumpkin-flavored everything are some of the first things that come to mind when we think about fall. Unfortunately, these enjoyable things also come with the stress of upcoming holidays, fear of the flu, and unhealthy eating habits that cause a blow to the immune system. A weakened immune system makes you more susceptible to developing a cold, influenza, and other illnesses.
Your Roanoke family chiropractor, Dr. Cody Doyle, can help you and your loved ones fight off sickness by boosting your immune system with regular chiropractic care. Because your brain, nervous system, and immune system are all connected through the spine, musculoskeletal manipulation dramatically improves their health and function. Regular chiropractic adjustments can increase the chemical messengers, called cytokines, in your body that strengthen your immune system's response against bacteria, germs, and viruses.
Contact our team at Doyle Chiropractic and Acupuncture today at 817-767-5430 to schedule an appointment.
The Evidence
It's believed that the science of chiropractic became popular during the 1918 Flu Pandemic. According to The Official History of Chiropractic in Texas by Walter R. Rhodes, DC, statistics reveal just how effective chiropractic was in treating influenza. Here are some of those numbers:
In Davenport, Iowa, medical doctors treated 4,953 cases and had 274 deaths. Chiropractors treated 1,635 cases with only one death. Based on these numbers, had the chiropractors treated every patient, there would have only been five deaths.
In the whole state of Iowa, medical doctors lost one out of every fifteen patients while chiropractors lost only one out of every 789 patients.
Nationally, chiropractors treated 46,394 patients and had only 54 deaths.
Chiropractors in Oklahoma lost only seven out of 3,490 patients and saved 25 after medical doctors gave up on them.
These results, and a number of other stories involving children and the military, led many to receive chiropractic care and many others to join the chiropractic profession.
Another study completed by the chief of cancer prevention research at New York's Preventative Medicine Institute, Dr. Ronald Pero, showed that 107 individuals who had regular chiropractic adjustments had a 200 percent stronger immune system than those who did not receive chiropractic care. It also showed that the chiropractic patients' immune systems were 400 percent stronger than those who have cancer or other serious diseases.
What's weakening my immune system?
Besides visiting Dr. Doyle, one of the most important things you can do to strengthen your immune systems is to find out what is weakening it. When you visit our Roanoke family chiropractic office, Dr. Doyle can help you figure out the cause of your symptoms and suggest lifestyle changes you can make to keep your immune system strong.
Factors that lead to a weak immune system include:
Insufficient exercise
Lack of sleep
Improper nutrition
Stress caused by trauma, thoughts, toxins, and technology
Exercise, healthy eating habits, good sleeping habits, and reducing stress will give your body the strength and nutrients it needs to fight against bad bacteria and viruses.
Whatever the cause of your illness, Dr. Doyle will work with you to create a personalized plan to promote overall wellness.
Contact Our Roanoke Family Chiropractic Office Today
Chiropractic care is a drug-free, noninvasive solution to many health conditions. Dr. Doyle believes in your body's natural ability to heal with a little help from proven and safe chiropractic methods. To get started with your regular chiropractic treatments, contact our friendly team today at 817-767-5430.