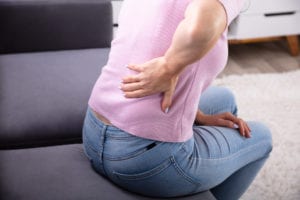 Back injuries can occur for a number of reasons. Trauma resulting from falls, auto accidents, and sports-related injuries can certainly be to blame. However, in many cases, back injuries are the product of poor habits and posture. Here, Dr. Cody Doyle – your Trophy Club chiro – shares a few tips and tricks for preventing back injuries and stop them from progressing.
Are you suffering from back pain? Schedule an appointment with your Trophy Club chiro. Call Doyle Chiropractic and Acupuncture today at 817-767-5430.
Behaviors That Cause Back Pain
Before we discuss how to prevent back pain, let's take a look at some common behaviors and habits that can cause the condition:
Poor posture: This strains the muscles and places stress on the spine. If left unaddressed, this can cause permanent changes in the spinal structure.
Incorrect lifting: A common cause of back injuries, trying to lift heavy objects incorrectly can result in strain.
Tobacco use: Though this is not commonly thought of as a culprit for back pain, research indicates that nicotine restricts blood flow to the cushioning disks in the vertebrae. Additionally, tobacco use prevents new bone growth by reducing calcium absorption. As a result, smokers experience slower healing when damage does occur.
Obesity: Extra weight around the midsection shifts the center of gravity forward. As a result, more strain is placed on the back.
Lack of exercise: Core strength is essential for overall health. Weak abdominal muscles can lead to poor posture, and consequently, back pain.
A sedentary lifestyle: If back pain is already present, then a sedentary lifestyle can actually make the problem worse. Lack of activity decreases blood flow to the affected area.
Lack of calcium and Vitamin D: Bone strength and density rely on certain nutrients. If you don't consume enough, it can exacerbate back problems.
Prevention Tips from Your Trophy Club Chiro
While it's impossible to prevent accidents and certain types of trauma, you can still promote spinal health by making well-informed choices. Modifying your behavior and eliminating harmful habits can improve your overall quality of life. Your Trophy Club chiro can give you recommendations based on your unique needs. In the sections below, we'll discuss some general tips that can help reduce the risk of back pain.
Practice Proper Lifting
We lift objects every day. From heavy boxes to laundry baskets to a simple pair of shoes – what you lift (and how you lift it) – can have a profound effect on your spine. To lift correctly, bend your knees and keep the back as straight as possible. Remember to keep your feet firmly planted on the ground, keep your balance, and avoid any twisting motions. This helps keep the spine in alignment, reducing the strain on your back.
Aim for a Healthier Lifestyle
Improving physical health can drastically reduce the risk of back injury. Here are a few tips from your Trophy Club chiro:
Exercise a few times every week.
Stretch your muscles before any type of physical activity.
Lose any excess fat in the midsection, and strive to be within 10 pounds of your recommended healthy weight.
Strengthen your core muscles.
Consider sleeping on a firm mattress if you don't already.
Address Issues Promptly
If you've sustained a back injury, it's important to see your Trophy Club chiro as soon as possible. In many cases, back injuries progress if left untreated. Prompt chiropractic care can help increase blood flow and alleviate discomfort.
Contact Your Trophy Club Chiro Today
Is back pain keeping you down? Schedule a visit at our Roanoke, TX practice. Call us today at 817-767-5430 or contact us online anytime.