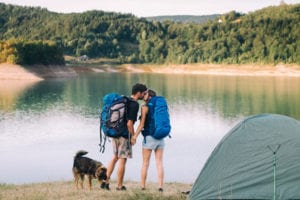 If the warmer weather is inspiring you to go out and be active, we at Doyle Chiropractic and Acupuncture want to do everything possible to help you get busy living your life!
If you have a condition that has drained your energy and stopped you from enjoying an active lifestyle, we invite you to meet with Dr. Doyle and see what alternative medicine can do for you. Many of our patients come to us fed up with traditional medical interventions that have not resolved their painful conditions. Dr. Doyle uses chiropractic and complementary therapies to correct your dysfunctions and activate your body to heal itself naturally.
Are you tired of painful conditions limiting your mobility and preventing you from being active? Visit Doyle Chiropractic and Acupuncture to learn about healing your body and restoring proper mechanical function. Call us at 817-767-5430 for Roanoke and Argyle, TX chiropractic care.
Dr. Cody Doyle has helped thousands of patients put an end to their painful and limiting medical conditions. We regularly treat:
Back and neck pain
Degenerative and inflammatory arthritis
Bursitis
Sciatica
Tendonitis
Plantar fasciitis
Heel spurs
Allergies
Shoulder pain
ACL and MCL sprains
Bulging or herniated discs
Degenerative disc disease
Peripheral neuropathy
Stress and anxiety
Migraines
Weight loss
When you visit our office, Dr. Doyle will conduct a full examination and take x-rays and other diagnostic scans. You will have the opportunity to explain your medical history and describe your condition(s). Depending on your symptoms, he may recommend a combination of chiropractic, acupuncture, physical therapy, myofascial release therapy, dietary changes and supplements, or other complementary therapies.
Many first-time patients of chiropractic care come to us wondering how spinal manipulation can cure a problem with inflammation in the knee, for example. The spine is more than just a support system for the back; it is the foundation for all mechanical function for the whole body. Furthermore, the spinal cord is the message relay system between all parts of the body and signals to and from the brain. Correcting an imbalance or dysfunction of the spine can help your body "communicate," function, and heal itself properly.
Holistic Therapy
As a practitioner of alternative and complementary medicine, Dr. Doyle ascribes to a holistic approach to healing. What does this mean? Quite simply, it means that sometimes you have to look at the whole body to get to the bottom of dysfunction and pain.
We all readily accept, for example, that improper footwear can lead to pain in the lower back and neck, because the musculoskeletal system is a functioning whole. Holistic medicine takes this a step further and looks at the interconnectedness of multiple body systems to promote healing and proper functioning. To heal a problem with the knee, for example, you may have to look beyond the knee itself, and consider how the knee is being used, how the leg and foot are being used, what you are putting into your body, and other factors.
You Don't Have to Be Limited by Your Medical Condition!
If you've been to multiple doctors over the years and have become resigned to your problem being a permanent condition–don't give up hope! Dr. Doyle has helped many patients heal and reduce their pain. You, too, can become more active in your life with the help of combined alternative therapies. Visit our Roanoke office or give us a call to find out more about Dr. Doyle's unique approach to healing.
Are you living with pain and limited mobility? Roanoke and Argyle, TX chiropractic care may provide relief, so you can live an active lifestyle! Call us today at 817-767-5430 to schedule a consultation.
Living with pain and limited mobility? Call Doyle Chiropractic and Acupuncture for Argyle, TX chiropractic treatments.