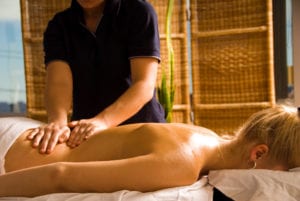 More and more people today understand the benefits of chiropractic care and massage therapy. In fact, combining these two treatments can actually speed up recovery from muscle pain. In addition to alleviating discomfort, this approach can significantly enhance mobility and facilitate overall wellness. Whether you're experiencing chronic muscle pain or aches and pains from your workouts, our team at Doyle Chiropractic & Acupuncture in Roanoke, TX can help.
To learn more, schedule an appointment at our Roanoke, TX practice. Give us a call at 817-767-5430.
Why Combined Treatment Works
In simple terms, chiropractic manipulation focuses on the spine, joints, and hard tissues while massage therapy concentrates on the soft tissues. This treatment approach delivers the best of both worlds so you can recover faster.
Your muscles function by responding to signals sent from the nervous system – via the spinal cord. As a result, reducing inflammation in both the muscles and the nervous system allows for optimal whole-body health. Let's take a look at each module in a little more detail.
Chiropractic Manipulation
The most common method used by chiropractors is called spinal manipulation – or a chiropractic adjustment. This technique dates back as far as 2700 BC, and involves applying controlled force to affected joints. For example, many patients experience limited range of motion as a result of chronic or acute trauma. Chiropractic manipulations can address issues like poor posture or repetitive movements so that muscle pain is reduced. In addition to the spine, manipulations are often performed on the shoulders, neck, arms, legs, or head.
Following a spinal adjustment, most individuals feel some degree of tenderness. This is a normal side effect and should diminish within a couple of days.
Massage Therapy
Massage therapy is commonly viewed as a "pampering service". True, massages can feel incredible – but they also offer significant relief from muscle pain. Today, more and more individuals are seeing the medical value of this type of therapy.
Soft tissue manipulation helps to relieve muscle tension, correct misalignments, and increase mobility and range of motion. It also increases circulation, alleviates stress and anxiety, and even boosts your immunity. Depending on the unique needs of the patient, there are several types of massage techniques used today. These include deep-tissue, Swedish, reflexology, sports massage, cranial sacral therapy, and trigger point therapy.
Combining Spinal Manipulations and Massage Therapy
When it comes to treating muscle pain, this is a dynamic duo. When massage therapy is performed prior to chiropractic care, soft tissues are warmed and tension is relieved. This is a significant advantage because joints can be pulled out of alignment when the surrounding muscles are tight.
Conversely, spinal adjustments support massage. If muscle pain is due to misalignment, adjustments may offer immediate relief. Even better, soft tissue heals faster once the joints are aligned.
Contact Doyle Chiropractic & Acupuncture Today
Utilizing both chiropractic care and massage therapy is an excellent way to promote holistic health. These techniques complement one another well, resulting in a wide range of benefits. Muscle pain doesn't have to rule your life. If you are seeking relief from aches and pains, schedule a consultation with Dr. Cody Doyle. With over 20 years of experience, he is equipped to treat a variety of ailments at our Roanoke, TX practice. You can contact us online anytime or call our office at 817-767-5430.