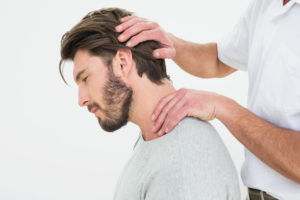 Do you suffer from back or neck pain? Do frequent headaches interfere with your life?
If so, you may wonder what the best treatment option is.
Did you know your local chiropractor offers effective treatment solutions that are noninvasive and drug-free? That could be why approximately 22 million Americans visit a chiropractor each year. With those visits, 35 percent, or around 7.7 million, seek care for relief from back pain caused by sports injuries, accidents, and muscle sprains and strains.
If you are in the Roanoke, TX area, Dr. Cody Doyle offers safe, effective treatment options for your pain. With over two decades of experience, he has successfully brought relief to thousands of suffering patients.
But Dr. Doyle goes above and beyond chiropractic care. He also offers acupuncture and myofascial release therapy, as well as other alternative therapies, such as nutrition counseling, ultrasound therapy, muscle stimulation, and education regarding home exercise.
And he treats a lot more than just neck and back pain. Keep reading to learn the surprising conditions chiropractic care can help.
What is a chiropractor?
A chiropractor is someone licensed as a Doctor of Chiropractic, with the initials DC after their name. When you see these initials, you know your provider has received extensive training in disorders of bones, joints, muscles, and ligaments.
Training and education to be a chiropractor include a four-year undergraduate degree (usually a "pre-med" type of degree) and four years of chiropractic school (approximately 4,200 instructional hours). In addition, they have taken and passed a National Board Exam.
A chiropractic program typically looks something like this:
First year: Courses in biochemistry, spinal anatomy, general anatomy, and chiropractic principles.
Second year: Courses in pathology, imaging interpretation, clinical orthopedics, chiropractic procedures, and research methods.
Third year: Courses in integrated chiropractic, dermatology, pediatrics, practice management, clinical internships, and ethics and jurisprudence.
Fourth year: Clinical internship, when the student completes rotations in a clinic or hospital and studies chiropractic care under a licensed chiropractor.
In addition, many chiropractors, such as Dr. Doyle, spend a tremendous amount of time learning about various other specialties, such as sports medicine, nutrition, rehabilitation, and acupuncture.
What is chiropractic care
The main treatments chiropractors perform involve hands-on spinal and joint manipulations to achieve proper alignment of the spine and the body's musculoskeletal structure. When joints are out of proper alignment, it can cause pain in the neck, back, head, hands, arms, feet, and legs.
Proper alignment allows the body to heal itself naturally without drugs or invasive treatments, such as surgery.
These manipulations restore joint mobility caused by tissue injury from trauma, such as a car accident or fall, and repetitive stress, such as from performing the same stressful movements over and over.
What conditions can a chiropractor treat?
Typically, patients go to a chiropractor for pain relief from injury to joints, muscles, and connective tissue, such as ligaments, cartilage, and tendons. While some patients receive chiropractic care as an adjunct to other treatments, many patients find relief from their pain with chiropractic care alone.
Chiropractic care can relieve pain that is acute, chronic, or from repetitive stress in the back, neck, head, and upper and lower extremities.
Examples of chronic pain include diagnoses like arthritis, fibromyalgia, or degenerative disc disease.
Acute pain can be caused by things like moving heavy furniture, a fall or car accident, or being tackled too hard. Acute pain typically does not last longer than six weeks.
Repetitive stress can cause carpal tunnel syndrome, rotator cuff (shoulder) pain, and plantar fasciitis (foot pain).
However, many patients also seek chiropractic care for issues not involving pain.
Some surprising conditions chiropractors treat successfully include:
Migraine and tension headaches
Seasonal allergies
Neuropathies
Weight loss
Stress and anxiety
Gastrointestinal issues
Insomnia
Pregnancy-related pains
Preparation for labor and delivery to reduce the pain of childbirth
Infertility
Weak immune system
You may wonder how a chiropractor can help with these conditions. The fact is, nerve impulses travel between your entire body and your brain through the spine, which is the root of your nervous system. When your spine is out of alignment, it puts the body under tremendous stress and can cause a multitude of problems.
Many illnesses and issues are worsened or caused by this stress, with activates the "fight or flight" reaction in the body. This increases your heart rate and blood pressure and redirects your blood away from your digestive system, organs, and extremities.
Over time, this wreaks havoc on your body and increases your risk of diabetes, muscle tissue damage, infertility, slowed healing, and damage to your immune system.
When put back into proper alignment, your body can process and manage stress in a much healthier way, allowing your body to heal itself.
Also, spinal adjustments improve blood circulation and reduce spinal nerve irritation. This helps your brain to turn off the fight or flight response, which also assists the body in healing.
In addition, Dr. Doyle can recommend helpful vitamins and supplements, teach you home exercises and relaxation techniques, and help you improve your posture.
What does chiropractic care involve?
At the first visit, Dr. Doyle will perform a comprehensive examination, which includes any necessary x-rays and gathering information about your medical history, current medications, and lifestyle factors. Next, he will discuss your symptoms, concerns, goals, and desires, and answer any questions you have. Once he has an accurate diagnosis, he will work with you to come up with a treatment plan.
The goal of chiropractic care includes restoring the function of joints, muscles, and connective tissue to align your spine and musculoskeletal system. This will also improve your range of motion, which helps prevent additional injuries.
Chiropractic treatment involves manual adjustments, where Dr. Doyle will manipulate your joints into proper alignment using sudden but controlled force. While some patients fear the adjustments will cause pain, you do not need to worry. Occasionally there is a very quick moment of "pain," as if you were pinched, but it abates instantly. Then, what you will notice is the relief of pain as the adjustment reduces the irritation of your muscles, joints, and nerves.
At the beginning of your chiropractic treatment, you are in an "urgent care" phase, and more frequent visits may be needed. This is important because the benefits of chiropractic care have a cumulative effect, and repeat treatments are needed to train the body, just like repeat exercise is needed for strength training.
After a few weeks, however, most patients can move to the rehabilitation phase, which requires less frequent visits. Once your pain is well controlled, you go into maintenance. At this point, treatment is pretty much "as needed."
Are you ready to see how good a chiropractor can help you feel?
If you are in the Roanoke, Trophy Club, Keller, or Southlake area, call (817) 767-5430 to schedule your consultation with Dr. Doyle. He would love to help you get on the road to health and wellbeing.