Dr. Cody Doyle is a trained chiropractor certified in both chiropractic and acupuncture treatment. Acupuncture is an alternative and holistic procedure based in traditional Chinese medicine that can stimulate the nerves, muscles, and tissues within your musculoskeletal system to eliminate chronic and acute pain.  During treatment, Dr. Doyle will insert very thin, sterilized stainless steel needles into strategic points on your body to increase energy and nerve flow within the underlying tissues and muscles.
**Dr. Doyle received his training to perform acupuncture at Texas Chiropractic College. He performs acupuncture to improve dysfunction within the musculoskeletal system of the body, in accordance with the scope of practice of a chiropractor in the State of Texas. While placing needles in the certain point's in the musculoskeletal system can have numerous non-musculoskeletal systemic benefits, Dr. Doyle does not directly treat any condition that does not have at it's core a musculoskeletal component. Instead, he treats only those dysfunctional points within the musculoskeletal system that he identifies after a thorough history and examination. If treating a musculoskeletal acupuncture point produces a non-musculoskeletal benefit, that benefit is purely incidental. **
What is Acupuncture?
Based in traditional Chinese medicine as far back as 480 B.C., acupuncture became a part of Western medicine in the late 1970s. Over the years, it has gained recognition as a viable holistic treatment method to improve the body's natural ability to heal itself without using painkillers or surgery.
Within the body are patterns of energy flow essential for physical health. When energy flow is disrupted, it can result in inflammation, disease, and pain. The theory behind acupuncture is certain points close to the skin can be stimulated to correct energy flow within the body. For example, if you have lower back pain, Dr. Doyle will insert small needles into musculoskeletal acu-points near the surface of your skin in strategic points throughout your body, including your lower back, to reduce musculoskeletal dysfunction, decrease pain, and increase healthy energy flow.
Conditions Acupuncture Can Help
Stimulation and treatment of musculoskeletal acu-points can help ease musculoskeletal stress patterns. Treating these muscuoskeletal points has been shown to also ease symptoms of a variety of conditions, such as:
It is important to note that we are not directly treating any specific condition. Our approach with acupuncture is to treat dysfunction in very specific points within your musculoskeletal tissues. Treating theses dysfunctional musculoskeletal points has been shown to have a wide range of health benefits, including diminishing or eliminating symptoms of conditions like those listed above.
What to Expect During Acupuncture
Before beginning treatment, Dr. Doyle will perform a detailed evaluation to determine your symptoms, lifestyle habits, and health concerns to create a personalized treatment plan. The initial consultation will take about an hour, with follow-up treatments ranging from 30-45 minutes. The total number of treatments required will depend on the severity of your condition.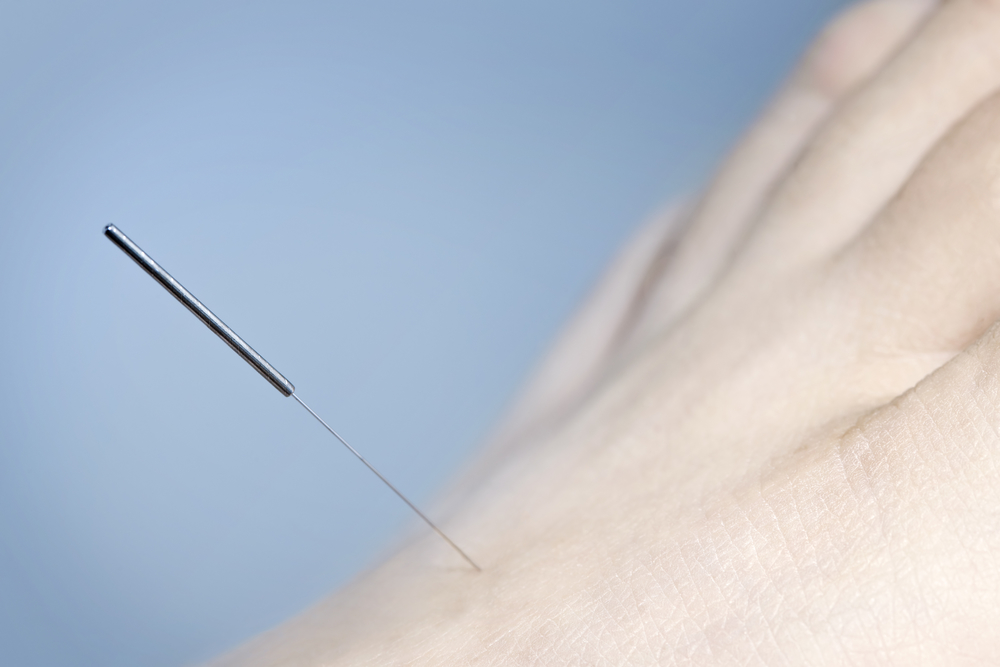 During an acupuncture treatment, Dr. Doyle will discuss the overall treatment with you in advance so you can better understand the scope of the procedure. He will take the time to answer any questions or concerns you may have. If necessary, he will provide you with a gown to change into and have you lie down on a padded table. Once you are comfortable, he will insert a number of needles in varying depths into your skin. You may feel a mild stinging sensation, but most patients experience very little discomfort.
Once inserted, Dr. Doyle may gently stimulate the needle by moving it up or down, in a circular motion, or with heat and mild electrical pulses. The type of treatment differs from patient to patient. After about 10 to 20 minutes, Dr. Doyle will gently remove the needles. Some patients immediately experience a relaxing or energizing sensation after treatment in addition to reduced discomfort. However, others may take a few weeks of treatments to respond. Dr. Doyle will often recommend acupuncture in addition to other treatment methods, such as physical therapy, exercise, chiropractic care, and a healthy diet.
Learn More About Alternative Medicine
Acupuncture is safe and effective when performed by an experienced practitioner, such as Dr. Doyle. Contact Doyle Chiropractic & Acupuncture today to schedule your initial consultation in order to learn more about the benefits of acupuncture. We care for patients from North Fort Worth, including Trophy Club, Grapevine, Southlake, Argyle, Keller, NRH, and Justin.
To reach our Roanoke, TX office, you can contact us online or call (817) 767-5430.