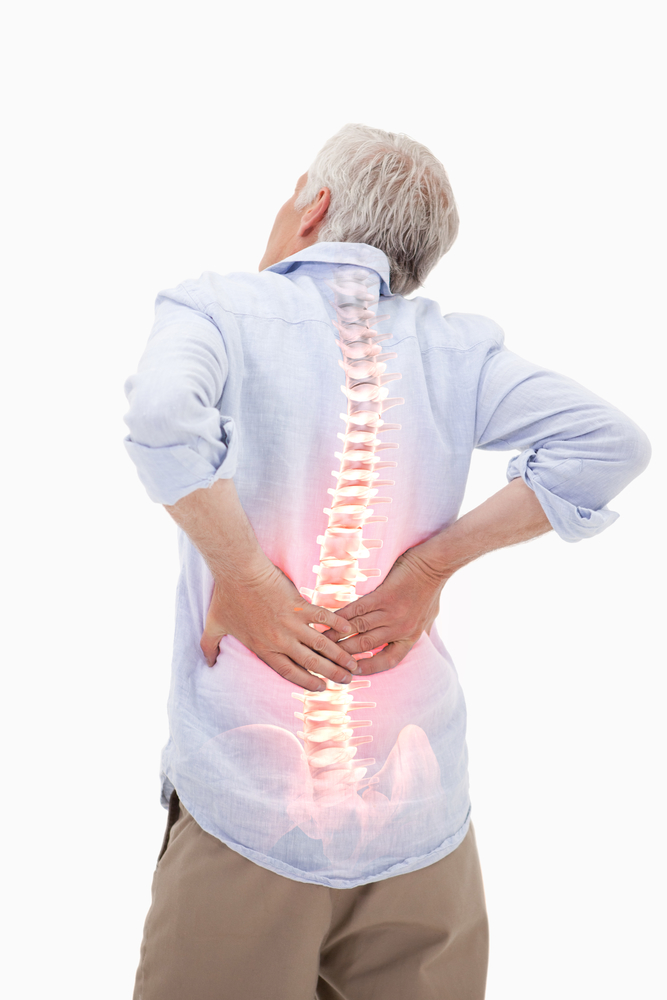 Spinal disc issues can include a variety of concerns, such as bulging discs, degenerative disc disease, and herniated discs. Disc-related pain can often be confused with nerve pain if a practitioner is not well-trained in the associated side effects. Located in between vertebrae, spinal discs enable movement and provide shock absorption for the spine. When injury or wear and tear occurs, common symptoms include lower back pain, leg pain, and numbness and tingling within your lower extremities. At Doyle Chiropractic & Acupuncture, Dr. Cody Doyle offers a wide-range of treatment options, such as chiropractic care, acupuncture, physical therapy, and lifestyle modifications to help eliminate discomfort and prevent you from having back surgery.
What Are Spinal Disc Issues?
Spinal discs are flat, circular, rubber-like pads about one inch in diameter and one-quarter inch thick securely attached to the top and bottom of vertebrae with connective tissue and muscle. They are designed to keep the vertebrae from touching and rubbing against each other. The outer layer of the disc is known as the "annulus." Inside each disc is a soft, gel-like fluid referred to as the "nucleus." Over time, this gel-like fluid will begin to solidify with age. Because of this, discs are more prone to injury in older adults.
Bulging Disc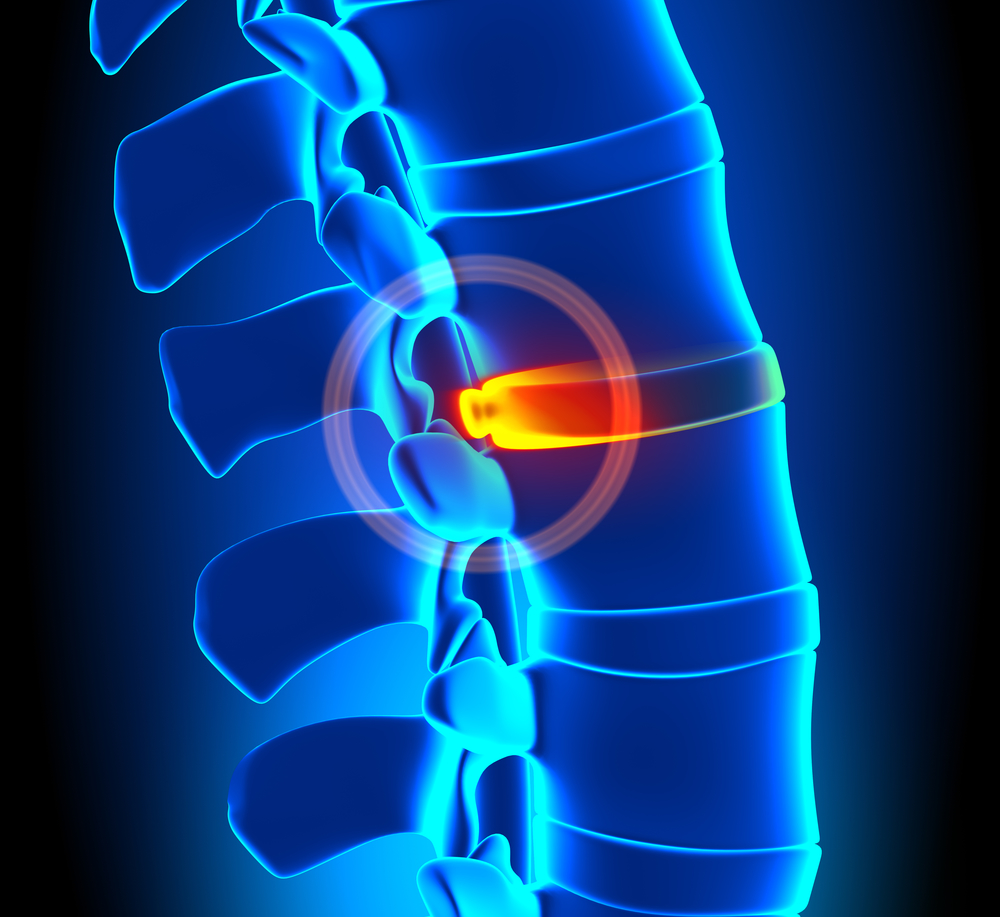 A bulging disc, considered a contained disc disorder, often precedes a herniated disc. Injury, poor posture, deterioration, or simply over-stretching can cause the disc to shift out of place and slightly protrude (bulge) into the spinal canal. Although bulging discs can develop anywhere within the spine, around 90% of bulging discs generally occur in the lower back. As the disc continues to shift, the gel-like fluid within the disc will remain intact, but will begin to gravitate toward the weakest point in the outer surface of the disc. If left untreated, it can develop into a herniated disc and lead to significant discomfort.
Bulging disc symptoms may include:
Pain or a tingling sensation within the neck and upper extremities
Muscle spasms in the lower back
Radiating pain from the upper back to the chest or stomach
Lower back pain
Herniated Disc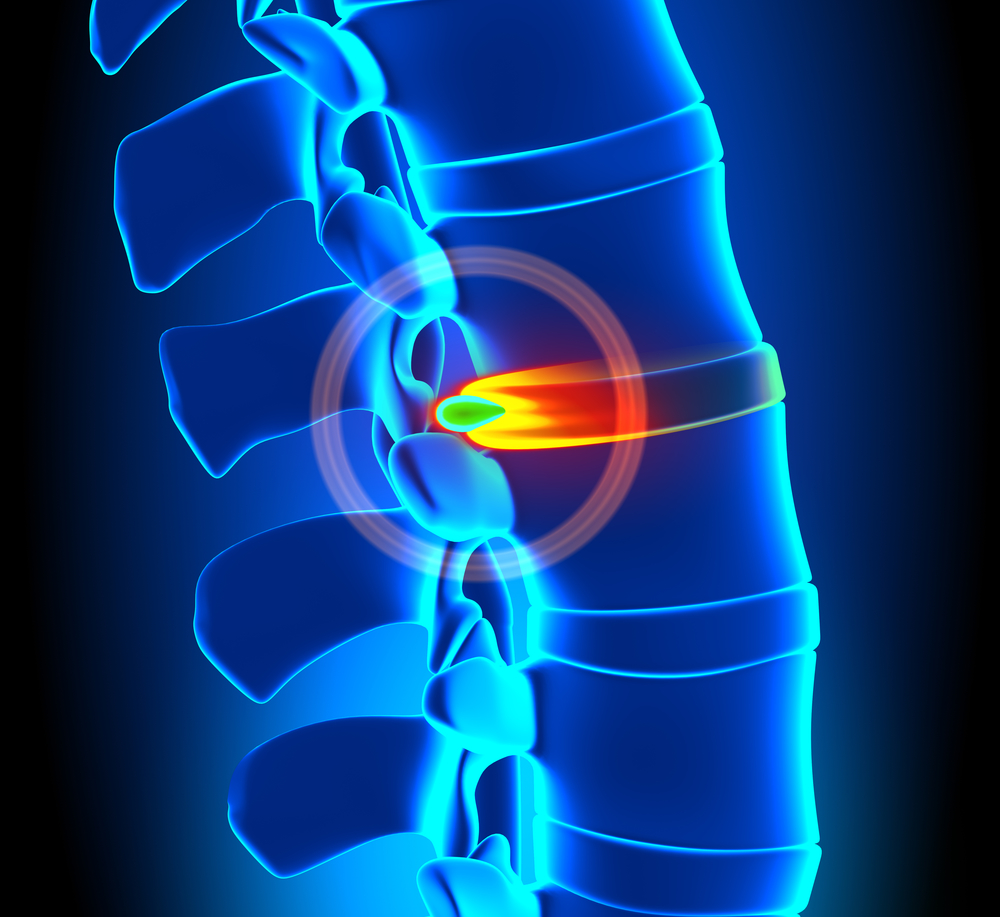 Also known as a ruptured disc, a herniated disc is considered a non-contained disc disorder. Once the gel-like fluid within the disc ruptures through the outer surface, fluid and fragments of the annulus will leak into the spinal canal and irritate the nerves. Over time, this can lead to debilitating spinal conditions, such as sciatica and chronic lower back pain. Common causes of herniated discs include high-impact sports injury, trauma from a serious car accident, improperly lifting heavy objects, and poor nutrition and exercise.
Herniated disc symptoms may include:
Sharp, dull, or achy pain
Muscle tightness and spasms
Muscle weakness
Radiating pain or tingling sensation throughout the upper and lower extremities
Degenerative Disc Disease
As we age, the spinal cord loses fluid and starts to deteriorate. When this occurs, discs will begin to compress within the vertebrae and tear or rupture. Although degenerated discs can occur at any place throughout the spine, they are more frequently diagnosed in the lower back and neck. The natural age progression is the number one leading cause of degenerative disc disease, but other causes can include smoking, obesity, lack of exercise, repetitive physical activity, injury or trauma.
Degenerative disc disease symptoms may include:
Chronic or acute neck pain
Limited flexibility during daily activity
Lower back pain
Pain within the buttock or legs
Increased pain when sitting, bending, or twisting
Contact Us Today
If you are experiencing any of the symptoms above, you may have a mild to severe disc disorder. Contact Doyle Chiropractic & Acupuncture today to schedule your consultation with Dr. Doyle and prevent further injury from occurring. We care for patients from North Fort Worth, including Trophy Club, Grapevine, Southlake, Argyle, Keller, NRH, and Justin.
To reach our Roanoke, TX office, you can contact us online or call (817) 767-5430.