Dr. Cody Doyle is a Board Certified Chiropractic Orthopedist and a Diplomate of the International Academy of Neuromusculoskeletal Medicine (formerly the Academy of Chiropractic Orthopedists). He was born and raised in the Dallas/Fort Worth area. Dr. Doyle grew up in North Richland Hills, graduated from Richland High School, and attended the University of Texas at Arlington. He completed his chiropractic education at Texas Chiropractic College in Pasadena, Texas.
Dr. Doyle achieved Board Certification in Chiropractic Orthopedics through the University of Bridgeport in Bridgeport, Connecticut. He is also a Primary Spine Practioner (PSP) and was certified by the University of Pittsburg in 2022.
Dr. Doyle has been practicing chiropractic and acupuncture since graduating and opening his first practice in North Richland Hills in 1997. He serves patients from all over the state of Texas including Roanoke, Keller, Northlake, Trophy Club, and surrounding areas.
Dr. Doyle's Unique Approach to Treatment
With over 26 years of experience, Dr. Doyle has devoted his entire career to researching and exploring alternative medicine and modalities. He has an intense curiosity for discovering the most effective treatment protocols to serve his patients.
When administering care, he may combine several treatment methods to help patients improve their health and achieve desirable results. He will work diligently with you to find the most effective treatment methods for your condition.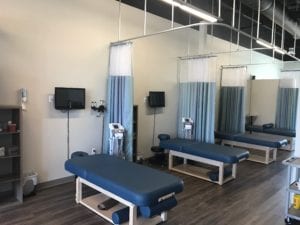 Dr. Doyle has an insatiable hunger for knowledge of the latest techniques in alternative medicine. Because of this, he continually researches and develops his unique treatment brand.
Over the years, he has realized that treatment is most effective when customized for each patient.
For instance, specific pain patterns respond better to a combination of chiropractic, acupuncture, and herbal medicine. Other patients, however, do best with chiropractic care and home exercises. Also, some migraine headaches respond best to acupuncture, while others require home exercises and chiropractic for best results.
Dr. Doyle will work with you to determine your best treatment plan. His mission is to reduce your symptoms and improve your overall health. His goal is to help you avoid surgery and the side effects associated with the long-term use of medications.
Popular Treatment Methods
Because each condition is unique, treatment plans are tailored to your specific needs and requirements. Dr. Doyle takes a comprehensive approach to his delivery of patient care. A treatment protocol could utilize any one or a combination of the following methods:
Chiropractic (Diversified, Activator, Thompson, or Gonstead techniques)
Herbal remedies
Massage therapy
Therapeutic exercises
Nutritional planning and detox programs
Dr. Doyle is passionate about helping patients achieve, restore, and maintain health and quality of life with alternative health care. He comes from a family of tremendous chiropractors who practiced in the Fort Worth area. He currently lives in Roanoke, TX, with his wife, Laura.
Meet the Doctor
Our friendly Doyle Chiropractic & Acupuncture team would love the opportunity to serve you and your family.
Call (817) 767-5430 today to learn more about our treatment options and schedule your consultation.
We care for patients from North Fort Worth, including Trophy Club, Grapevine, Southlake, Argyle, Keller, NRH, and Justin.
Office Hours
Monday         8a-12p & 2 pm-6 pm
Tuesday         8a-12p & 2 pm-6 pm
Wednesday   8a-12p & 2 pm-6 pm
Thursday       8a-12p & 2 pm-6 pm
Friday            Closed
Saturday        Closed
Sunday           Closed