Treatment Methods – Chiropractic and Acupuncture
With over 20 years of chiropractic and acupuncture experience, Dr. Cody Doyle has treated over 100,000 patients with a diverse array of conditions and complaints. Chiropractic adjustments and acupuncture sessions treat musculoskeletal and nervous system dysfunction and can have broad-ranging effects on many medical conditions while improving overall wellness. His original technique gives him the ability to combine multiple alternative treatment modalities into one plan in order to achieve optimum results.
In addition to routine chiropractic care and/or acupuncture, Dr. Doyle may also recommend other complementary therapies, such as herbal and nutritional plans or home exercises to help you attain your health goals.
During your initial consultation, Dr. Doyle will perform a detailed physical examination, listen to your health concerns, and create a plan for customized alternative treatments to address your unique needs. In addition, he will perform a series of x-rays and tests to locate vertebral subluxations and determine your range of motion and flexibility. With this information, Dr. Doyle will properly diagnose the root of your issue.
Chiropractic and Myofascial Release Therapy
All biomechanical movement of the human body has its roots in the functioning of the spine, and all organ and nerve functions are guided by the spinal cord that runs through the vertebrae. Dr. Doyle uses chiropractic care to correct misalignment of the vertebrae of the back and neck. He is trained in several commonly used forms of spinal manipulation, including the diversified, activator, Thompson, and Gonstead methods. This means he may use a combination of different techniques to address your unique vertebral subluxations and biomechanical issues.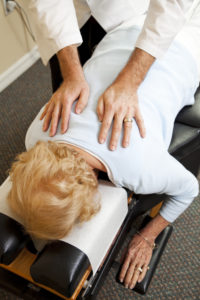 Myofascial release therapy uses connective tissue and muscle massage to treat skeletal muscle issues that may cause immobility and pain. This treatment improves flexibility and function in your muscles after experiencing trauma, injury, or chronic pain. Dr. Doyle combines myofascial release with chiropractic adjustments, so you may not notice a difference in the two treatment methods.
During your treatment, Dr. Doyle may use:
His Hands and Arms – to apply short-lever and high velocity, low-amplitude (HVLA) thrusts and massage the tissues of the back and neck.
A Small Device – to deliver gentle impulses to the spine.
A Drop Table – which has sections that drop down during manual manipulation
You will be asked to sit and lie down on a table during your treatment. At no time in should you experience acute pain or distress. You may hear small popping sounds as gas escapes from the joints of the spine, but these should not be accompanied by any discomfort.
Call Today to Learn More About Dr. Doyle's Treatment Methods
Making your appointment at Doyle Chiropractic & Acupuncture is quick, convenient, and easy. Contact us today to schedule your initial consultation with Dr. Doyle. We care for patients from North Fort Worth, including Trophy Club, Grapevine, Southlake, Argyle, Keller, NRH, and Justin.
To reach our Roanoke, TX office, you can contact us online or call (817) 767-5430.