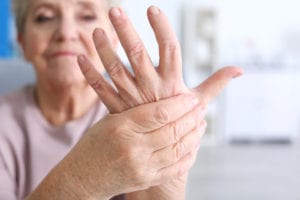 Inflammatory arthritis, commonly known as rheumatoid arthritis (RA), causes more than discomfort. The autoimmune disease can feel like an attack on your quality of life as well. At Doyle Chiropractic & Acupuncture, our number one concern is to restore your body so you can enjoy sports, leisure activities, and life's pleasures.
Although incurable, many RA symptoms can be managed with traditional medications or alternative, holistic methods, such as chiropractic care and acupuncture. As you begin your treatments under the care of Dr. Cody Doyle, keep these healthy tips for living with RA in mind.  Dr. Doyle serves patients in Roanoke, Keller, Southlake, Trophy Club, and surrounding areas.
Tips for Living with Rheumatoid Arthritis
After your examination at our Roanoke office, Dr. Doyle may recommend a combination of the following treatments to address your RA symptoms:
Ultrasound

Home exercises

Acupuncture

Chiropractic and myofascial release therapy

Nutritional and herbal therapies
In addition to these proven and effective treatments, patients may benefit from these tips.
Stay active
We understand that the very nature of inflammatory arthritis can leave patients feeling like exercise is not an option. Your overall health plays an important role in controlling your symptoms, though. Patients who do not stay ahead of RA by staying healthy risk losing muscle mass or experiencing other forms of preventable degeneration.
Stretching is a great habit to develop. You will find yourself feeling sprier and nimbler. Many of the positive effects of stretching can boost your energy and motivate you to pursue other forms of exercise. Start each day with a simple stretching routine. Dr. Doyle will recommend several stretches that will be beneficial to your health. Remember to lightly stretch before and after exercising as well. Overstretching before aerobics or physical exercise can be counterproductive, so save any intensive stretching for mornings and after working out.
Low-impact exercises that elevate your heart rate can improve your overall health without harming your joints. Walking, biking, swimming, and cardio machines are all great options. Exercises to build muscle mass are also an important part of any workout regimen. After consulting with a trainer or Dr. Doyle, start by using light weights or resistance bands.
If your workouts are causing joint pain, take a break and consult with Dr. Doyle.
Watch what you eat
If you are significantly overweight, Dr. Doyle may suggest weight loss as part of your treatment plan. This can especially help in reducing pain in your knees, back, and hips. It is always a good idea to eat a balanced diet. Whole grains, fruits, vegetables, heart-healthy oils, vitamin supplements, and fish should be your top food choices.
Consider cutting back on:
Sugar

Starches

Processed foods

Sugary drinks

Excessive caffeine

Excessive alcohol
Reduce Stress
Stress is a reality of life for many of us. While we cannot prevent stressful situations from arising, we can consciously work to reduce undue stress in our day-to-day lives. If you suffer from periodic stress, try these tips.
Talk to a professional

: Dr. Doyle treats his patients holistically, meaning he is glad to listen to your concerns and anxiety about having RA. If Dr. Doyle is unable to fully help your emotional needs, he may recommend a counselor or therapist.

Find time to unwind

: Many of our patients forget to take time out to physically and mentally rest periodically throughout the day.

Stay mindful

: Activities like medication and yoga are proven to lower stress.

Find support from your community

: Your church, friends, family, and co-workers can lend a caring ear to your problems. There are many great local support groups as well. Connecting with other people who live with RA is a great way to learn how to learn coping mechanisms.
Seek Arthritis Relief Today
If you have been diagnosed with inflammatory arthritis, Dr. Doyle can provide the care you need. Contact Doyle Chiropractic & Acupuncture today to schedule a consultation. We care for patients from North Fort Worth, including Trophy Club, Grapevine, Southlake, Argyle, Keller, NRH, and Justin.
To reach our Roanoke, TX office, you can contact us online or call (817) 767-5430.