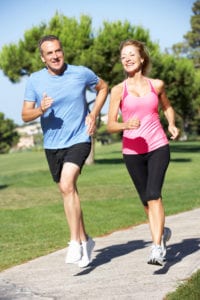 When struggling with back pain, most people tend to think that "resting my back" is the best option, but in reality sitting on the couch has the opposite effect. Too much rest allows muscles to weaken, tighten, and deteriorate. Muscles in the back need to be active unless they are torn or otherwise injured. Exercise is all about strengthening, stretching, and improving overall health.
As a chiropractor, Dr. Doyle often prescribes daily exercise to help reduce pain and discomfort, long term. If you want to explore drug-free treatments for pain relief, call Doyle Chiropractic and Acupuncture today at 817-767-5430.
A walk around the block or a few miles on the treadmill every day can get monotonous (but if you like it, don't change it). If you find that working out by yourself seems uninspiring and unmotivating, you're likely to stay on the couch watching Netflix. Exercise can be fun, believe it or not. In Roanoke and Trophy Club, you have access to many awesome parks with trees, amenities, and like-minded neighbors—and admission is cheaper than Netflix.
Walking, Jogging, or Running
Cardio will make your spine, and you, happy! Just a 30-minute walk or run triggers the release of endorphins—the happy hormone—to boost your mood. For those who love to run, don't forget that running posture matters! Find out what that looks like here.
When cardio becomes a part of your daily routine, it helps the body stay comfortable doing everyday tasks, like tying shoes, walking upstairs, or playing with your kids and grandkids. So, grab a friend (even the four-legged variety) and start walking at any of these places near you:
Cannon Parkway Park
Along with playground equipment, splash pad, basketball courts, and many other amenities, this park has a paved walking trail that is a little more than half a mile long. If you only want a short walk, shoot some hoops and cool off at the splash pad before heading home. A skateboard and BMX park is next to the sand volleyball courts. Hangout and get to know your neighbors while you're there. There are public restrooms, as well–always a bonus. Our office is just across the street!
Roanoke Community Park
Roanoke Community Park is full of activities for the whole family. The main entertainment is watching baseball and softball, but the park has much more to offer. Enjoy a scenic half-mile walk around the pond and bring your fishing gear. The pond features a pier that's great for kids and adults alike. Picnic tables and restrooms are onsite, as well.
Trophy Club Park
Not a fan of walking or running? How about disc golf? Trophy Club park features an 18-hole course, in addition to the woods around Grapevine Lake, which provide excellent hiking and horseback riding opportunities. Geocaching and fishing are also fun activities that this park offers. https://www.trophyclub.org/475/Trophy-Club-Park
Water Aerobics
For gentle resistance training, water aerobics is one of the best choices. This low-impact workout gets the blood flowing in your spine, which helps restore and strengthen your back, shoulders, hips, and neck. Many techniques focus on arms and legs, as well. You can try water aerobics on your own at Roanoke Community Pool or Trophy Club Pool. For instruction, check out this YouTube video that shows three water aerobics exercises for abdominal workouts.
Pilates Classes
Pilates is a great workout for strengthening core muscles which, in turn, help relieve back pain. When the core is strong, the body is more balanced and the back has more support. Starting a new exercise can be damaging if you jump in too quickly, so try these easy Pilates workouts and basic movements before pushing your body too far!
If you and Dr. Doyle decide that Pilates is a good match for you, consider joining any of these Pilates studios in the Roanoke area:
Foreverfit Pilates Studio in Trophy Club
Purely Pilates Center in Southlake
C3 Pilates in Keller
To learn more about how Pilates helps strengthen core and back muscles and which exercises are best for managing pain, click here. There are also many YouTube videos and television shows that can guide you through yoga and Pilates exercises at home, at no cost. A little online research will help you find a favorite for your unique needs.
Before You Begin
If you are injured or suffer with chronic pain, before beginning a new exercise regimen, check with your general practitioner or Dr. Doyle to make sure you're ready. If you'd like to also explore holistic pain relief options, call Dr. Doyle's Roanoke, Tx office today at 817-767-5430 to set up a one-hour, comprehensive consultation and evaluation. The chiropractic and acupuncture clinic is convenient to Trophy Club, Keller, and Justin.