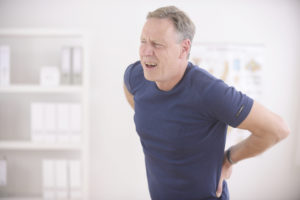 Spinal discs are the sponge-like cushions between your vertebrae. These tiny pads are extremely important to our everyday life because they provide shock absorption, help with stability, and allow for movement. When discs are damaged, our physical abilities become extremely limited. If you are suffering from spinal disc issues, your Trophy Club chiro Dr. Cody Doyle at Doyle Chiropractic and Acupuncture can provide a drug-free pain management solution. He'll help make sure that further injury doesn't occur.
If you're suffering from spinal disc issues, contact us to schedule a consultation with Dr. Doyle. Here is how our chiropractor can provide you with relief from your spinal disc issues:
Symptoms of Spinal Disc Disorders
Not sure if your back pain stems from a disc disorder? Here are some general symptoms:
Pain radiating down the legs
Worsening pain when bending over or sitting down for a long time
Worsening pain when you cough or sneeze
Numbness or pins-and-needles in an arm or leg
To determine if your symptoms are due to a spinal disc disorder, visit Doyle Chiropractic and Acupuncture. Dr. Doyle can identify exactly what is causing you pain and set you on a path toward recovery. Contact us online or at 817-767-5430 today for a consultation with Dr. Doyle.
Risk Factors
You may be more prone to disc problems if you have one or more of these issues:
Obesity
Poor muscle tone
Lack of regular exercise
Smoke cigarettes
Poor posture
Poor weightlifting techniques
Types of Disc Problems
When a disc shifts out of place, ruptures, or deteriorates, there is nothing to keep the vertebrae from rubbing against each other and causing immense pain. Types of spinal disc issues include:
Bulging Disc
Also known as a herniated disc, a bulging disc occurs when the disc shifts out of place and protrudes into the spinal canal. This is often caused by injury, poor posture, deterioration, or over-stretching. About 90% of bulging discs occur in the lower back. Symptoms of a bulging disc include:
Pain or a tingling sensation in the neck and upper extremities
Muscle spasms in the lower back
Radiating pain from the upper back to the chest or stomach
Lower back pain
Degenerative Disc Disease
Frequently occurring in the lower back and neck, degenerative disc disease is when the spinal cord loses fluid and begins to deteriorate. Discs then compress within the vertebrae and begin to tear or rupture. Symptoms of degenerative disc disease include:
Chronic or acute neck pain
Limited flexibility during daily activity
Lower back pain
Pain with the buttock or legs
Increased pain when sitting, bending, or twisting
Causes of degenerative disc disease include old age, smoking, obesity, lack of exercise, repetitive physical activity, injury, or trauma.
Contact Your Trophy Club Chiro Today
If you're looking for a doctor that prioritizes total wellness and drug-free treatment, Doyle Chiropractic and Acupuncture is the place for you. Our team is prepared to create a personalized plan to bring your body back to its full strength and health. To learn more about our treatment methods and how Dr. Doyle can relieve your spinal disc issues, contact us online or at 817-767-5430.